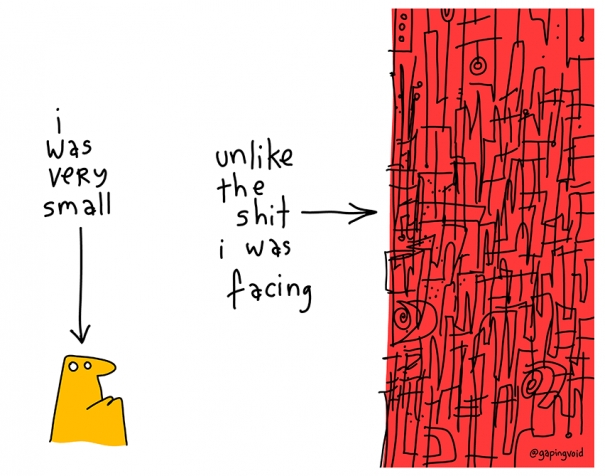 About This Image
Perspective is powerful stuff.  Your attitude can shift perspective in your favor... or not.  I like this image because it actually reminds me that I'm not small.  It reminds me that In fact I am big - big enough to handle whatever shit-storm that gets blown my way.  So are you.
This one goes in your office, where you can see it every day, to give perspective a kick in the pants.
I Was Very Small
Limited Edition Giclée
Printed on acid free, textured fine art paper 330 gsm
Plate signed
A Word on Framing - Or, why you should let us do it for you:
Having spent your hard earned cash on a beautiful piece of art we strongly recommend professional framing.
Our limited edition giclée prints and serigraphs are printed on the best archival paper available. It is designed to last a very, very long time. We've seen clients who have taken both routes; inexpensive poster frames, which will ensure that the print will not survive the fullness of time, and top end, proper museum type framing.
We have contracted with a local framer, so that you can get a really high quality professionally framed print for probably half of what your frame shop would charge.
We frame our giclée prints using a high quality mat between the print and the plexiglass. For our larger serigraphs we make shadow box frames so that the artwork is set back from the UV plexiglass, and the artwork is floating, 'hinged' to a back board that will make it stand out and look amazing. The moldings we offer are 1" 5/8 (4.25cm) minimalist sleek black or white matte lacquered wood.
Special framing requests are welcome. Questions? email us at art@gapingvoid.com